Hardscape Services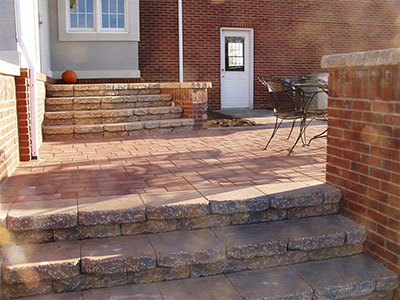 We at Curbmasters Inc. offer a range of top quality hardscaping design and build services to residential and commercial clients. Our customized and personalized approach helps to ensure that every element in your landscape is functional and aesthetically appealing.

We have the certification, licensing and technology required to handle big and small projects to industry standards. We cater to clients in and around Dayton, and have built a very strong customer base here. You can trust us to provide reliable and cost-effective hardscaping services such as:


Hardscaping Design & Build
Hardscaping isn't a job you can entrust to novices. You need skilled, proven, and experienced designers and installers that would be able to offer custom services, and that is what we at Curbmasters do. We offer a wide variety of hardscaping solutions such as the design and construction of driveways, walkways, pathways, patios, and decks. We handle these jobs for commercial and residential clients and make sure that every single feature is installed correctly. Our creativity and skills, as well as access to the right resources, helps us create elegant hardscapes that are a class apart. Read more about Hardscaping Design & Build »


Outdoor Living Spaces
We offer custom outdoor living design and build solutions so that our clients get outdoor spaces that are functional, attractive, and long-lasting. We have the ability, experience as well as the creativity to offer our clients high-quality outdoor living features including patios and decks, fire feature zones, outdoor kitchens et cetera. Our team is here to help you with every step of the project so that your outdoor living areas are beautiful, durable, and easy to maintain as well. We use exterior grade materials in the work such as pavers and natural stone as well as brick and custom concrete masonry installations. Read more about Outdoor Living Spaces »


Commercial/Streetscapes
Creating a commercial streetscape involves the use of different services. In addition to concrete installations, there may be a need for brick, natural stone, and other masonry features. We have the certification, licensing and the experience needed to create stable and long-lasting commercial hardscapes on our clients' properties. We have worked closely with developers, architects, engineers, city officials, as well as general contractors. We make sure that every aspect of the project is planned and implemented as per our clients' requirements. On our team are certified retaining wall installers that will make sure these features are engineered and constructed to perfection. Read more about Commercial/Streetscapes »


Green Build
Green construction has now become very popular across the region. Many commercial and residential property owners are opting for various energy-efficient and water-efficient installations on their properties. This trend has extended into the design and planning of outdoor spaces as well, which is where our green build solutions come in. We recommend the installation of permeable paver stones for landscapes. They have porous surfaces which allow water to seep into the ground below, which slowly replenishes the underground water table. In addition to this, when we are designing any other hardscaping elements, we focus on making sure that they are also built in an eco-friendly manner. Read more about Green Build »


Paver Patios
Patios are a popular feature on residential properties, and many homeowners like to have this outdoor space for relaxation and entertainment. It allows you to use your yard area more productively and also increases the living spaces of your property. We can design and install a customized, interlocking concrete paver patio. We also make sure that the surrounding areas and features such as walkways or pathways that lead to the landscape are designed correctly. These features create a seamless and cohesive look in your landscape and enhance the appeal of your property as well. Read more about Paver Patios »


Paver Walkways
Most landscapes have lawn areas and flower beds etc. It can become difficult to walk around without trampling on some of these features. One of the best ways to avoid any damage to your landscape is to install paver walkways on your property. We have been in this industry for many years and use high-quality paver stones as well as our creativity and skills to create unique walkways on our clients' properties. You can choose from materials such as concrete, natural stone, or brick pavers. All of these materials are incredibly hardy and built to last in outdoor environments, so your walkways will last for many years with very little maintenance. Read more about Paver Walkways »


Paver Driveways
Most driveways see considerable wear and tear and features on commercial areas, even more so. This makes it necessary to choose suitable quality materials while building driveways. We know from experience that these surfaces have to be installed with attention to detail using the right techniques. We are certified and licensed hardscaping professionals that can handle paver driveway with design and installation as per our clients' requirements. You can use pavers made of natural stone, brick, or concrete. Our experts are here to design driveways that will be a real value-add to your property. The right paver driveway can increase the curb appeal of your home or commercial building too. Read more about Paver Driveways »


Landscape Curbing
In addition to various hardscaping features on a landscape that are easily visible, there are some elements such as curbing or edging that is equally necessary. We can install different types of landscape curbing in various areas of your outdoor spaces. Curbing serves many purposes. It lends a neat and defined look to the landscape and protects the lawns and flower beds from damage as well. Aside from this, it helps to keep the grass growing where it is meant to. We can pour concrete edges with different aggregates, colors, and finishes to create a unique appeal in your yard areas or commercial landscape. Read more about Landscape Curbing »


Snow Removal Services
Removing snow from the outdoor spaces during wintertime can be an extremely tedious and time-consuming task. Commercial property owners find that when the snow starts to pile up in the outdoor areas, such as parking lots, driveways, etc. it impacts their business and profitability as well. The best way to avoid all of this is to hire expert snow clearing professionals like us for the job. You have the option to hire us for a one-off service or contractual basis for the winter season. We cater to commercial and residential clients and offer cost-effective solutions. Timely completion and regular communication are some of the other aspects we focus on in every project. Read more about Snow Removal Services »

If you are looking for high-quality hardscape design and build solutions from proven experts, we at Curbmasters Inc. are the company to call. For any more information about our services or a free estimate, call us on this number- (765) 449-9093. You can also send us your queries or project details through this Contact Us form.